Projects
Bodo von Zingler has lead or joined over a half dozen different musical projects throughout his decades long musical career. These are some of those.
Tan Weiwei & Beijing Guests
Tan WeiWei is one of the biggest and most recognizable pop stars in China. She frequently sells out arenas full of 30,000 people, her hit songs "Gei Ni Yi Dian Yan Se" "Wu Lan Ba Tuo De Ye" have been streamed millions of times, and she is well regarded by critics and fans alike.
Bodo Von Zingler has been with Tan WeiWei nearly from the start and for the last 5 years he has collaborated on everything from touring to musical composition with her. In many ways, Bodo has even contributed to Tan WeiWei's success, and they even performed together at the 2016 Spring Festival Gala watched by over 1 billion people worldwide.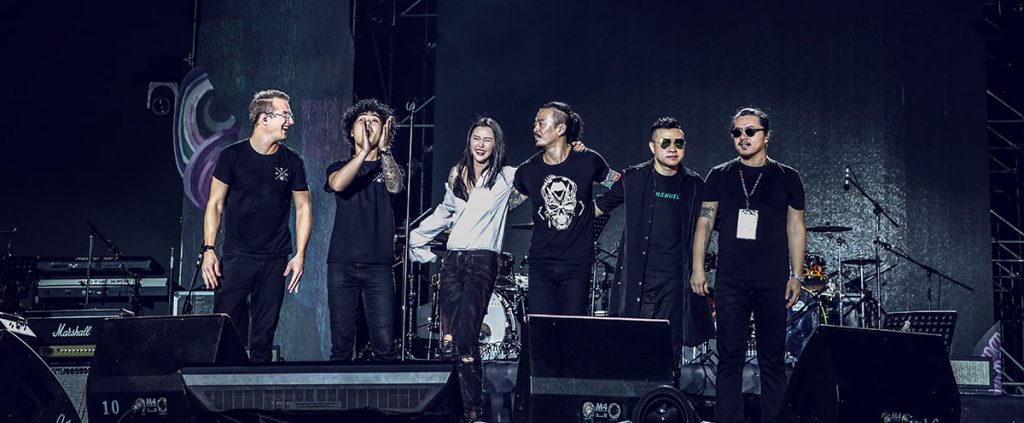 Bodo first met Tan Weiwei in 2013 when they were both playing at the Sky music festival in Lijiang. After she listened to him play bass in his Chengdu-based Ska band "Trouble, " she invited the band to join her on the upcoming televised band competition "New Energy Music Plan" hosted by Red Bull. At this competition Tan Weiwei witnessed Bodo's explosive energy to play and perform on stage, and after the event she and her renowned producer Liu Zhou invited Bodo to join their all-star team permanently in a band called "Beijing Guests."
Listen to "Wu Lan Ba Tuo De Ye" MP3 Below
Epíkourostan
Epíkourostan is a project initiated by bassist and guitarist Bodo von Zingler and drummer Mykola Timkov. Meeting 2015 during a jam session in Chengdu, both felt an inspiring musical connection. Soon they started composing together and defined the musical direction of what later should become Epíkourostan.
Armissan
Armissan stems from Bodo's early days in China studying at Sichuan University in 2004, where he was first introduced to French musician Sébastien Debande during the fall semester.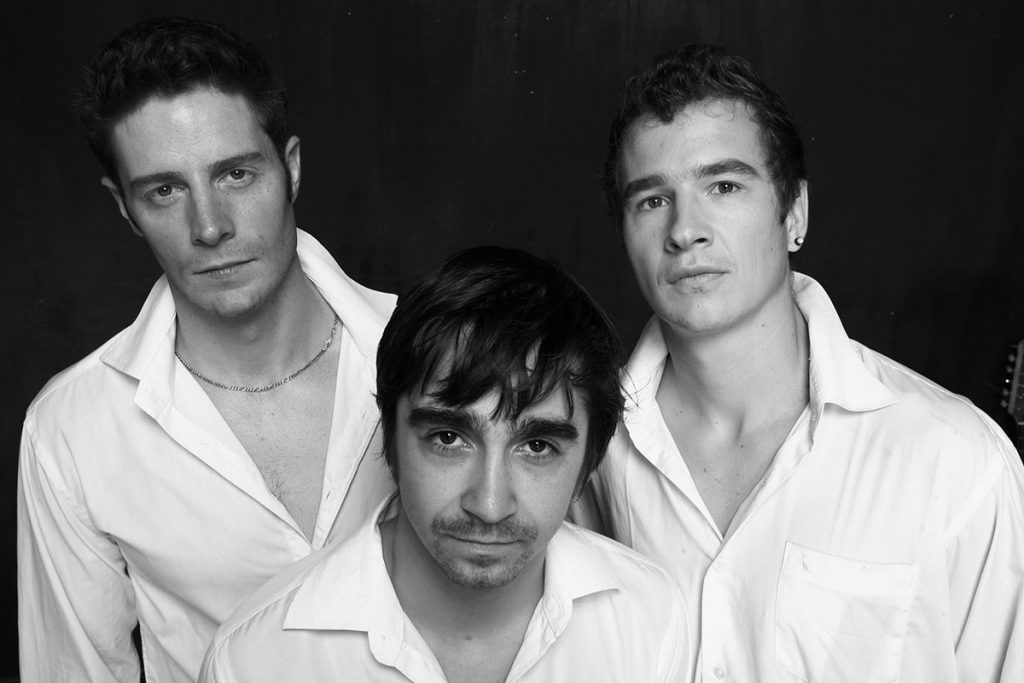 This was the beginning of a creative bond that would take both of them on a musical journey with multiple bands throughout China and the United States and eventually propel Sébastien to open up for the band "Nery And The Belgistan" in front of a huge crowd in Paris.
Inspired by countless late night jam sessions and the effortless writing process Sébastien and Bodo encountered while collaborating, they decided to form their own band in 2006 and invited long-term friend and multi-talented instrumentalist Thomas Burke (England) into the mix as their drummer, and Armissan was officially born. With the formation of the trio, Burke, Bodo, and Sébastien's wild fusion of Indie rock, Folk music, and Funk became more accessible and structured and they soon became a staple act at shows and festivals in Chengdu. Before long their reputation extended throughout China and they were officially invited by Aliance Francais to play multiple shows for larger audiences in both Shanghai and Beijing, an experience Bodo reflects as some of the highlights of his time spent in China.
Critically acclaimed for their unique songwriting, sound-shaping, and incendiary live performances, Armissan later went on a small Beijing tour and perfomed at the the "Forever-Young" festival in Chengdu, where they were praised by producer Kang Le. Due to their excellent performance, Kang Le invited them into his studio to record their first self-titled album in 2008, an album that would propel them to join an international tour in the United States with their second band "Red Water." Shortly after, Sébastien was given the honor to open up for the French band "Nery and the Belgistan" in Paris.
After Sébastien returned to his home country in 2009, Armissan went on a hiatus. However, the success of Armissan can still be felt in all of Bodo's subsequent work, and Burke and Bodo continued to write, tour, and perform with their band "Red Water."
Listen to "Sur mon nuage" MP3 Below
Eatable Freakballs
With a style as funky and unusual as their name suggests, Eatable Freakballs was Bodo's first successful band and would lay the musical blueprint for his later international accomplishments.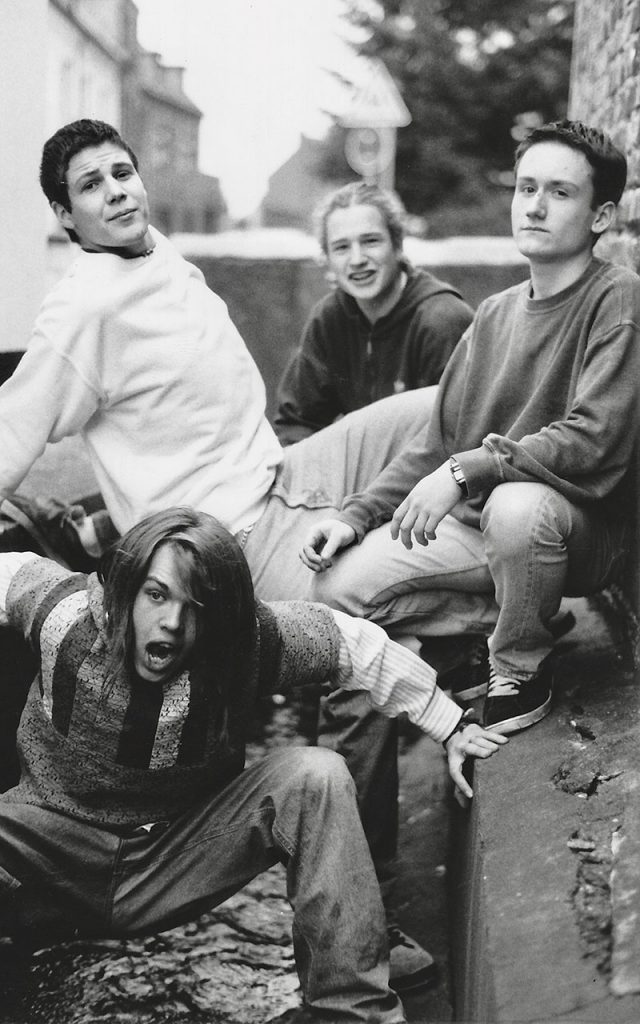 Borne as a passion project between longtime hometown friends Bodo Von Zingler, Martin Breuer, Jonas Vogel and Michael Nöcker, Eatable Freakballs emerged from the small German town of Brühl near Cologne when they were only 15 years old and went on to record two studio albums, one EP, and win first place in a large band competition in Düsseldorf in 2003.
Eatable Freakballs mission was to forge independent sounds into songs with an emphasis on strong rhythms and unusual musical arrangements, and from their inception in 1996 they worked tirelessly to accomplish this goal. In the years 1996-2000 they performed at numerous concerts around Germany and participated in countless band competitions. In 1998 they completed their first studio record at MIB Studios in Brühl titled, "Freaky Chicken Fear Aggressive Warfare."
Due to their expanding musical direction, The Freakballs separated from longtime drummer Michael Nöcker in 2000 and shuffled their lineup. Philip Schmidt-Beer joined on the drums, Benjamin Winter picked up the bass, Jonas Vogel moved to rhythm guitar, and Bodo took on the challenge of lead guitar. The musical virtuosity of Eatable Freakballs and Bodo's ability to play guitar is expressed on their second studio album "Groove-Lotion.
As the Freakballs continuously pushed the boundaries of their sleepy German hometown in Brühl, their artistic mission carried them further and further away from their physical, but not musical, roots. Even though the band split up in 2003, each member has continued to work with each other on different collaborations throughout Germany and the world, and Bodo and Martin eventually created several projects overseas in China to critical acclaim, including Fnky Smthng and Gramaphonetics.
Listen to "Don't Sleep" MP3 Below
Fnky Smthng
Fnky Smthing emerged in the aftermath of Eatable Freakballs when bassist/guitarist Bodo von Zingler and vocalist Martin Breuer decided to experiment with even more forms of musical expression beyond rock and roll.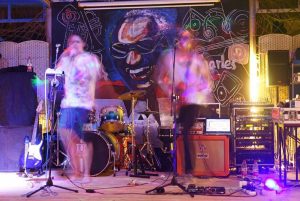 Marty and Bodo have been friends since "Bodo's daddy picked Marty up and banged his head on the ceiling" and have collaborated in countless bands, but wanted to try something completely different. Thus, Fnky Smthng combines the twang of ska, the low-end of hip hop, and the playful syncopation of disco to great effect, and over the course of their 25 years of creative collaboration across two continents the Fnky Smthing duo has continuously redefined their style and sound to reflect a constantly changing guest list of local artists and international musicians.
For example, their first album Future Bob (2005) featured 8 guest musicians, and their second album Bit by Bit (2015) featured an astonishing 10. Bodo attributes the success of Fnky Smthing to this exact formula: A frequently revolving line-up of musicians, perspectives, and instruments that ultimately help to develop fresh sounds and create new acoustic avenues. Since the addition of award winning drummer and equally as manic individual Mykola Timkov, the duo officially became a 3-person band that could turn any venue into a party.
From sold out concert halls to guerrilla street corner pop-up shows, Fnky Smthing is a rush of pure feverish joy that is equal parts performance and passionate exchange with their audience, and proves Bodo's versatile musical ability to both perform and create music that is in tune with his own heart and artistic vision, as well as lead a revolving set of various musicians on a creative journey.
Listen to "Money Mafan" MP3 Below
Infinite Eight
Infinite Eight is the combined effort of bassist Bodo Von Zingler and vocalist Ramon Colon, both formerly of the band Red Water. After touring and creating music together for over ten years, the two musicians decided to combine their efforts and work on an original studio album in May 2016.
Their creative synergy paid off, and within 5 weeks they had approximate frames of arrangement, melodies, and lyrics for over ten songs, one which titled "The Hotpot Song," became a hit single in China and accumulated over 10 million clicks on streaming platforms.
With the assistance of American drummer Michael Deibert's tightly grooved percussive beats and Colon's garage rock vocals, Bodo finished all instrumental recordings, mixing, and final production and by his hand the album "2016" was mostly shaped and mastered into its final form with the exception of "The Hotpot Song," largely produced in a studio.
To this day, "The Hotpot Song" can still be heard echoing its catchy melody everywhere in China, from busy restaurants to subway cars. This proves that long-time collaboration and teamwork has a priceless value toward a final product, and also shows that Bodo has the musical capability to write and release a hit commercial single with the right team.
Listen to "Open" MP3 Below
Red Water
The seeds for Red Water were planted in the early Hemp House jams of Chengdu in 2006 and germinated into full musical fruition over the following decade. To date, Red Water has played approximately fifteen hundred shows all over Southern China with both original material and cover band content.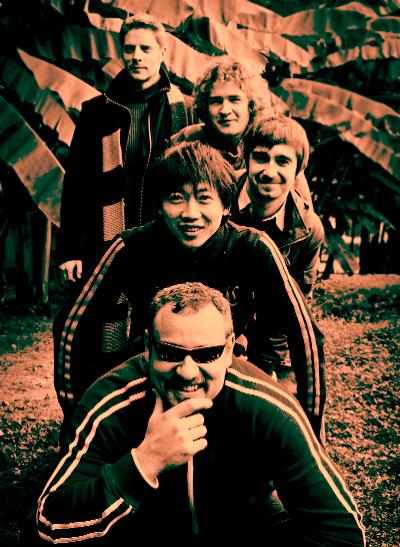 Yet, in the beginning there were no grand expectations for Red Water, it was all about having fun, hanging out, and hosting weekly jam sessions with superbly talented local musicians from around the world. Some of these musicians would later come to comprise the official line-up of Red Water.
After gaining notoriety within the Chengdu expat circle of friends, teachers, students, and young professionals attracted to Red Water's laid-back atmosphere and Bodo's groovy bass lines, Red Water officially formed a band and began to play small commercial events and local venues around Chengdu. The first line-up of Red Water consisted of: Ramon Colon (Vocals, USA), Bodo von Zingler (Bass, Germany), Thomas J. Burke (Drums, England), Sébastien Debande (Guitar, France) and Wang Xiao Dong (Guitar, China).
In 2008 Red Water recorded and released their first self-titled album and after, with the addition of a new guitarist and Canadian Rock Veteran Yvon Serre, they began to tour the commercial circuit of Southern China as a top 500 cover band. For the next 4 years they pursued and attained commercial success but were left feeling unfulfilled creatively. After adding explosive American drummer Adrien Brill to their lineup in 2012, Red Water underwent a full creative shuffle and decided to return to their original jam-rock roots back in Chengdu, the source of their initial inspiration and musical sustenance.
Like water and sunlight, the support from the local Chengdu music scene and the energy from audiences at their live shows inspired Red Water to start working on their second studio album appropriately titled, "Electricity." Released in 2014, "Electricity" is a tribute to the organic roots that allowed them to grow so big. Currently, Red Water is on a temporary hiatus because the band mates live in different locations around the world, but they still stay in touch and look forward to touring and jamming together one day in the future.
Listen to "Daylight" MP3 Below
Gramaphonetics
Gramaphonetics emerged from humble origins but with ambitious dreams in 2000, when hometown friends and musical collaborators Bodo von Zingler, Heinz Martin Breuer (Marty B), and Lee Thomas Taylor (Easy Lee) began scratching old gramophone records taken from the trash and letting them run on different speeds and tempos.
Lacking money for quality microphones, the three friends experimented with rapping into old headphones and then recording them on deck tapes for playback. This blend of the artistic, the savvy, and the downright bizarre would prove a catalyst for creative endeavors to come.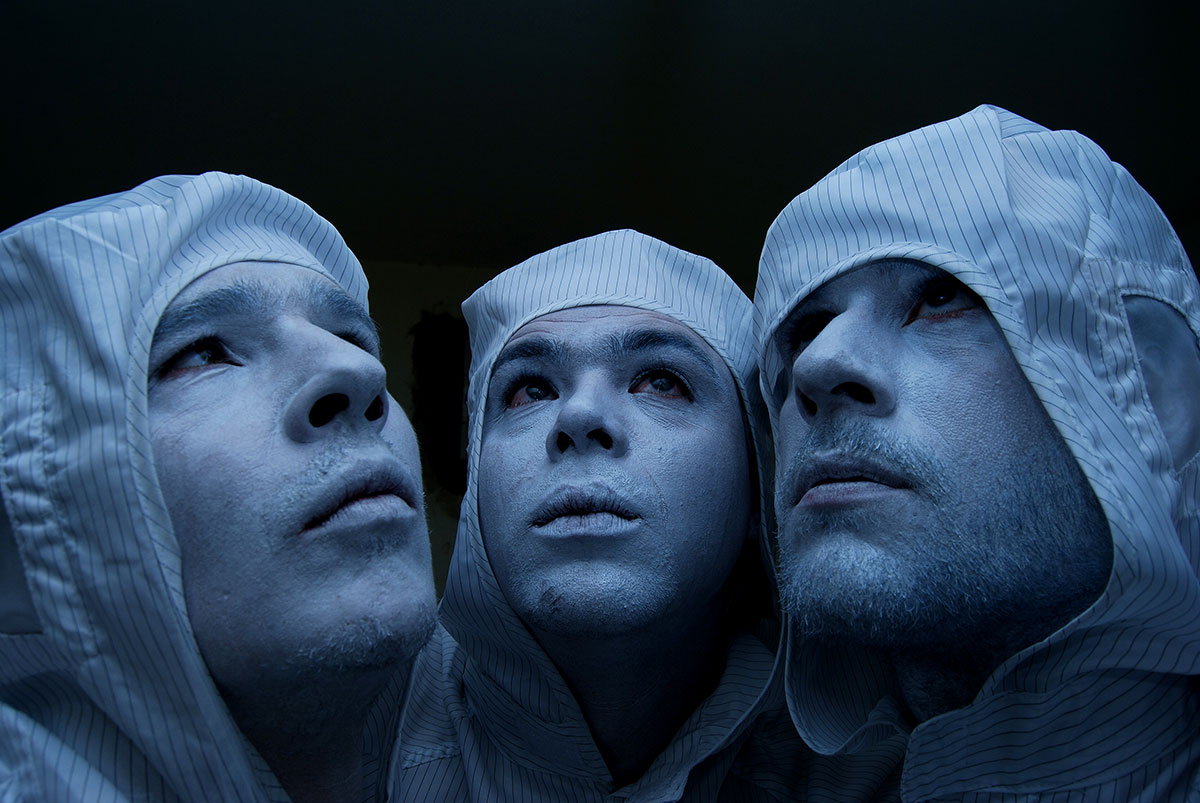 With over 100 shows, 3 tours, 2 albums, and performances in both Europe and China, Gramaphonetics as a concept has developed alongside each band member's career and interests. Marty B and Easy Lee both graduated with master's degrees from the Art Academy Düsseldorf and have been responsible for much of the visual appearances of the show; body paint, costumes, original video projections, and even full architectural reconstruction of the stage are just a few of the features used to alter the impact of each live performance. Meanwhile, Bodo is credited with much of the musical direction and technical expertise.
Just like a concept is hard to put into words, Gramaphonetics musical style is best experienced live. However, it can be imagined as a fusion of electro, hip-hop, ska, funk, pop, rock, and even gospel. Although Gramaphonetics is now on a hiatus due to distance, Bodo plans on collaborating with Easy Lee on his musical project Antifred back in Berlin.
Listen to "RTP" MP3 Below
The Trouble
Bodo's appropriately titled ska band "The Trouble" (Re Chao Bo) is composed of six people, six instruments, and a lot of attitude. As a band they are not afraid to shout about issues in a country that often is very shy, and as a musical experience they introduced these same quiet citizens to a genre they had never heard before, Ska music.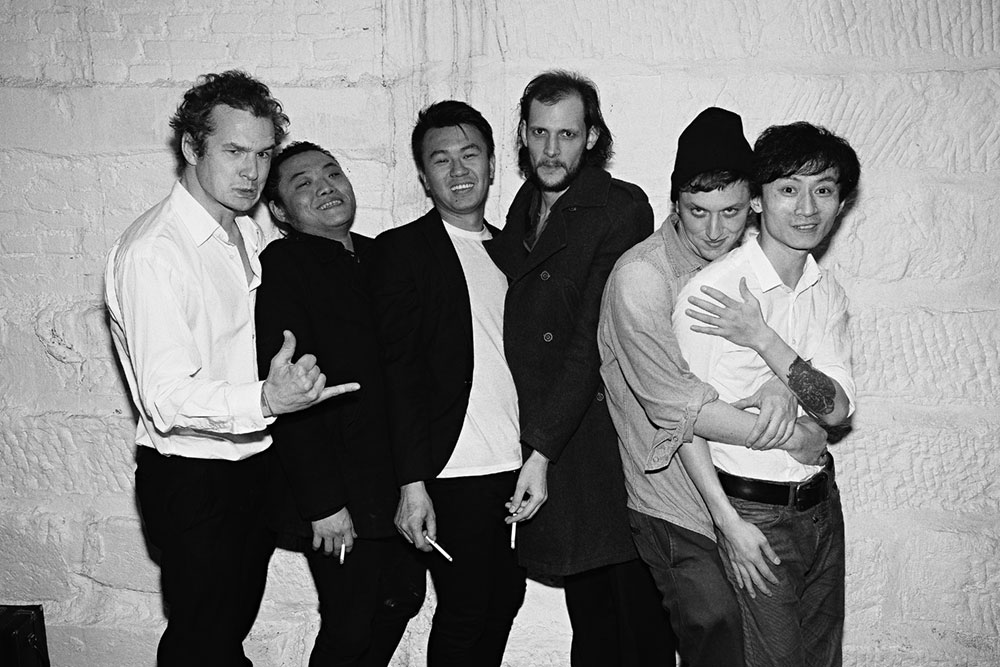 In the process, fans of The Trouble not only found a voice of their own to proudly sing along with, but also an anthem that they could shake their hips and fists to. Founded in May 2005 as a 3 person punk bank, The Trouble slowly evolved into a 6 person international ensemble complete with bass, drums, saxophone, trumpet, and 2 guitars. As they gained new members, their musical style developed and in 2009 they went on a 3 week tour across China, solidifying themselves as China's first and best Ska band. At the conclusion of this tour, The Trouble met with local Chengdu bands and organized a concert to reinterpret songs by China's most famous rock star, Cui Jian. This musical mashup was so successful that Cui Jian himself took notice and met with The Trouble. After giving them words of encouragement, Cui Jian motivated them to continue their quest to spread their message through Ska music to all corners of China.
So what is the message of The Trouble? Vocalist Gao Xin is not afraid of anything and his lyrics mercilessly bounce off the backbeat of Bodo's bass. Yet, despite the often serious meanings behind their music, the band always lightens the mood by cracking jokes between songs to create a festive atmosphere that is equal parts call to action and stand up comedy routine. The Trouble consists of three foreigners and three Chinese nationals who together achieved everything in China they have set out to accomplish, and now look forward to proving their skills elsewhere in separate projects. Although on a hiatus, they still occasionally perform when all members of their rock star line-up have the time. Aside from Bodo, the extremely credited line-up includes:
Gao Xin (高 欣)
Gao Xin is not only the frontman of the band, he also boldly writes all the lyrics and occasionally plays the guitar, drums, keyboard, clarinet, saxophone, and bass. Before founding "The Trouble," Gao Xin spent his younger years as a drummer for the band "Green Channel," an early trend-setter in Sichuan's indie music scene. His samples and synthesizer effects are also featured on "Mr. Jam" and he has played drums with the band "Mr. See Turtle". Currently Gao Xin is the drummer of one of China's most successful bands, "Mosaic", with whom he regularly tours China every year.
Chen Zheng (陈正)
Affectionally called "fat flower" by his friends, Cheng Zheng is one of Western China's best trumpet players and the personal mascot for The Trouble. Besides trumpet, Chen Zheng also plays guitar, bass, flute, trombone, hunting horn, flugelhorn, piccolo, trumpet, and vocal harmonization for live performances. Aside from The Trouble, Chen Zheng is a founding member of the successful Ska and Reggae Band: "Jah Wah Zoo" and still regularly tours throughout China with this act.
Huang Jing (黄锦)
Rarely does a drummer combine tightness and creativity as interesting as Huang Jing does. At some point he was a member of every major and successful band in Chengdu: Soundtoy, Ashura and Proximity Butterfly. The fast pace beats that make up the backbone of The Trouble would not be possible without his frenzied, yet disciplined, approach to the craft of percussion.  Currently, Huang Jing is a member of the well-known Chinese bands "Re-TROS" and "Noise Temple."
Murray-James Morrison
Dr. Murray James Morrison is a saxophonist, composer, and music educator. Originally from Canada, he has worked as an itinerant arranger, bandleader, clinician, composer, guest lecturer, and performing artist in cities around the world. In 2019, Murray-James will be a Clinical Assistant Professor of Arts at NYU Shanghai. Formerly, he was Head of Saxophone at the Popular Music Academy of the Sichuan Conservatory of Music, where he taught jazz and popular music in Mandarin Chinese.
Wang Wei Xu
The Shandong native is both a passionate saxophonist and true multi-instrumentalist. In addition to the saxophone, he also plays the drums, guitar, djembe, sings, and composes his own pieces. Following The Trouble, Wang Wei Xu opened a music school for children called FBS in Zibo, where he teaches saxophone and percussion.
David Borenstein
In addition to being a gifted clarinetist, this Florida-born musician is also a documentary filmmaker and cinematographer. Young, energetic, and full of curiosity, David Borenstein brought new momentum to The Trouble when he picked up the baritone saxophone and enchanted everyone with his exquisite saxophone solos. In the United States, David Borenstein also played alto saxophone with Mojo Orchestra and the Soulphonics.
Listen to "Zai Lushang" MP3 Below